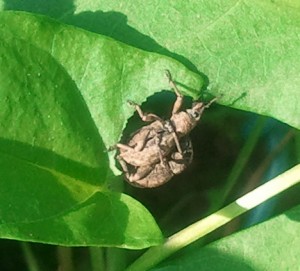 One of my hobbies, and I wouldn't go so far as to gussy it up with the word 'entomology,' is bug hunting. I've never really bug hunted in Japan before so in preparation for the summer I recently went out and bought a bug identification book, magnifying glass, bug cage, and skimmer net (the kind used for aquariums – I couldn't find any 'official' bug nets that weren't ginormous and, despite this being a hobby that is conducted in public, I like to keep my geekiness on the downlow as much as possible, so a net that can at least be hidden in a bag or some such when not in use is a must). Today I took all this out for a little test spin. Pictures and info after the break. Needless to say, don't click on the link if you're squeamish about insects.
A brief disclaimer: I'm no etymologist, so all of the identifications below are tentative.
 ヒメアカボシテントウ (Himeakaboshitentou)
Chilocorus kuwanae
The Japanese name literally means "red starred princess ladybug." Like many members of the ladybug family, Chilocorus kuwanae are natural predators of crop-destroying scale insects, making them beneficial to farmers.
ビロウドコガネ (Byoudokogane)
Maladera japonica
The Japanese name means "velvet scarab beetle," a reference to the velvet-like fuzz on its shell. According to my book, it eats the leaves of plants, while according to Mushi Navi, it eats the roots.
(Unidentified)
Unfortunately, I couldn't identify this one with my limited resources. Perhaps a new or invasive species? I doubt it, through. More likely it's a long-horned beetle (カミキリムシ, kamakirimushi) or possibly a soldier beetle (ジョウカイボン, joukaibon). Any readers out there in internet land have a lead?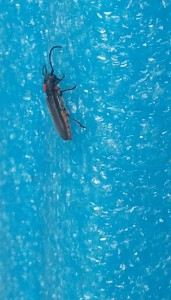 ヒメマルカツオブシムシ (Himemarukatsuobushimushi)
Anthrenus verbasci
Literally "round princess katsuobushi bug," katsuobushimushi (the 'katsuobushi bug' part) is the Japanese name for dermestid beetles, a reference to the Japanese ingredient katsuobushi (basically dried fish flakes), perhaps because the larval form of this bug enjoys dried animal matter (adults feed on nectar, like the one in the photos below). Considering that it's noted to be resistant to arid conditions and food shortages, it wouldn't surprise me if people frequently found this insect in any katsuobushi that hadn't been properly sealed up.
サビヒョウタンゾウムシ (Sabihyoutanzoumushi)
Scepticus griseus
A type of weevil, I found quite a few of these bugs running around in presumably mating pairs and singly. The Japanese name could be translated literally as "contradictory rust weevil," a reference to its rather un-weevil-like short nose and rusty coloration. They like to eat the leaves of pea plants and other legumes, true to form for weevils, which are often crop-damaging pests. According to Mushi Navi, they're active at night, but that doesn't jive with the several I spotted around 3:00 p.m. today. I managed to snap quite a few good images of the buggers despite only using the built-in camera on my phone.